C.W. Cascio and Dash For Cash were a team from the beginning.

By Richard Chamberlain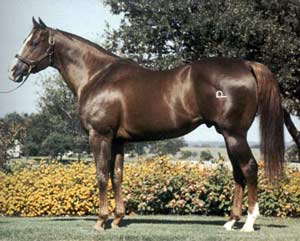 On the 12th of this month, C.W. "Bubba" Cascio joins Dash For Cash in the Texas Horse Racing Hall of Fame at Retama Park. It's about time - Dash For Cash arguably was the greatest horse to ever come out of Texas, Cascio certainly is one of the greatest horsemen from the Lone Star State. Among many other accomplishments, Cascio trained '83 world champion Dashingly, and with Three Oh's in 1968 and Rocket Wrangler in '70 became one of only seven trainers to prep more than one winner of the All American Futurity (now G1). Cascio started his career on the Texas bush circuit, riding match races for his father, Jake, roped calves and steers, and trained cutting horses, qualifying for the 1964-65 finals of the National Cutting Horse Association Futurity.

But Dash For Cash, the 1976-77 world champion, was Cascio's crowning achievement. The stallion was foaled April 17, 1973, on B.F. and Anne Phillips' Phillips Ranch at Frisco, Texas. Cascio was training all of the Lazy P horses, and according to him, it was a stroke of luck - indeed, seemingly bad luck - that preserved Dash For Cash for the sire that he became, the progenitor of 145 stakes winners and the earners of nearly $40 million.

"I read all this stuff in the magazines, and I got to tell you, sometimes I have to laugh," says Cascio. "You know that story (AQHRJ, June 1996 et al) about how B.F. saw Dash For Cash when he was born? How he come back home and says that he'd just seen the best horse ever born on the place? Let me tell you what really happened.

"We got up all our yearlings (in 1974), went through them, looked at them, and decided we'd keep Windy Ryon as a stud. Windy Ryon really was the only one that looked like stud material (and later sired the earners of more than $5.2 million). 'Dash' looked like a big ol' gangly Thoroughbred, and we were going to cut him along with the rest.

"Well, there come a thunderstorm one night, thundering and lightning and raining. It got the colts to running around, and Dash For Cash ran into a fence, tore open his shoulder. The cut didn't get down into the meat much, just ripped the skin. We sewed it up. We got ready to cut the other colts and Dash's shoulder still wasn't quite healed up - still had stitches - so we didn't want to throw him down (to geld him). We were afraid that it would bust open that shoulder. We decided we'd cut him later and just go ahead and start breaking him."

"The first time I tacked him up, Dash still had those ol' dried-up stitches. I just cut them out and we went on with him, still planning on cutting him when we had time.

"The first time we let him down, 'Nic' (jockey Jerry Nicodemus) came back, his face looked like it had been sandblasted and he couldn't get his breath," says Cascio. "I knew right then we had a runner. I called up B.F. and said, 'I don't think you want to cut this one.' But the only thing that kept us from cutting him to begin with was that shoulder. If he hadn't busted it, Dash For Cash would have been a gelding."

Well. Now you know the rest of the story.
From American Quarter Horse Racing Journal ~ October 2002
Rocket Wrangler AAA
1968 Chestnut



1970 World Champion 2 yo
1970 ROM Performance
1973 Superior Performance
Race earnings $252,167
1970 RCE High Money Earning Horse

Rocket Bar AA (TB)
1951 Chestnut



AQHA Hall of Fame ~ 1992
1953 ROM Performance

Three Bars (TB)
1940 Chestnut



AQHA Hall Of Fame ~ 1989

Percentage (TB)
1923 Chestnut
Myrtle Dee (TB)
1923 Black
Golden Rocket (TB)
1940 Chestnut
Cartago (TB)
1925 Chestnut
Morshion (TB)
1928 Brown
Go Galla Go AAA
1961 Sorrel



1964 Superior Race Horse
1963 Register of Merit
Race money-earner

Go Man Go AAAT
1953 Roan



AQHA Hall of Fame ~ 1990
1955 World Champion RC
1956 World Champion RC
1957 World Champion RC
1957 Superior Perf RC
1957 High Money Earning Horse

Top Deck (TB)
1945 Brown



AQHA Hall of Fame ~ 1990

Lightfoot Sis
1945 Sorrel
LA Galla Win
1953 Chestnut



Race money-earner

Direct Win (TB)
1947 Chestnut
La Gallina V
1939 Sorrel
Find a Buyer (TB)
1966 Chestnut



AQHA Hall of Fame Offspring
World Champion Offspring
Superior Performance Offspring
Race ROM Offspring
Race Money-earners

To Market (TB)
1948 Chestnut
Market Wise (TB)
1938 Bay
Brokers Tip (TB)
1930 Brown
On Hand (TB)
1931 Bay
Pretty Does (TB)
1944 Bay
Johnstown (TB)
1936 Bay
Creese (TB)
1933 Bay
Hide and Seek (TB)
1952 Chestnut
Alibhai (TB)
1938 Chestnut
Hyperion (TB)
1930 Chestnut
Teresina (TB)
1920 Chestnut
Scattered (TB)
1945 Chestnut
Whirlaway (TB)
1938 Chestnut
Imperatrice (TB)
1938 Bay
Home ~Sale Barn ~Mares ~Sires ~ Legends ~Horses Sold ~Contact Us ~Links