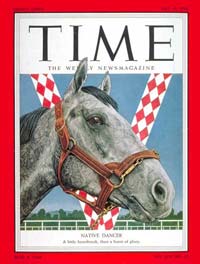 Racing Record
22-21-1-0, $785,240.
1952 Co-Horse of the Year
1952 Champion 2 YO Male
1953 Champion 3YO Colt
1953 Horse of the Year
1954 Champion Older Male Horse
1954 Horse of the Year
Won 17 stakes including Preakness, Belmont, Travers, American D., etc.
Stakes sire (40)
Appeared on the cover of Time Magazine on May 31, 1954
Native Dancer (March 27, 1950 - November 16, 1967), nicknamed the Gray Ghost, was one of the most celebrated and accomplished thoroughbred racehorses in history, the first horse made famous through the medium of television.

Born at Scott Farm near Lexington, Kentucky, the gray colt was raised and trained at owner Alfred G. Vanderbilt Jr.'s Sagamore Farm in Glyndon, Maryland. A son of 1945 Preakness Stakes winner Polynesian out of the mare Geisha, in his first season of racing Native Dancer won all nine races he entered, thrilling crowds with his come-from-behind running style. He was voted the Eclipse Award as Champion 2-year-old for 1952 with two of the three major polls naming him Horse of the Year.

In his three-year-old campaign, the undefeated racehorse received a great deal of media attention leading up to the 1953 Kentucky Derby. He won both the Gotham Mile and the prestigious Wood Memorial en route to racing's most prestigious event but at the Derby, Native Dancer lost for the first time. Although jockey Eric Guerin was roundly criticized in the press, the horse had in fact been fouled twice during the race but recovered to barely lose to Dark Star.

Following his loss at Churchill Downs, Native Dancer quickly reestablished himself as one of the best horses in America. He won the Preakness Stakes, the Belmont Stakes and the Travers Stakes a feat accomplished until then only by Duke of Magenta, Man o' War, and Whirlaway, and by only two other horses since. Native Dancer never lost again that season and was named Champion Three Year Old Colt.

In 1954, Native Dancer won all three races he entered and was scheduled to be shipped to France to compete in the prestigious Prix de l'Arc de Triomphe. However, he had to be retired as a result of a recurring foot injury with a record of 21 wins out of 22 lifetime races. Voted the Eclipse Award for Horse of the Year for 1954, he appeared on the May 31st cover of Time Magazine.